Recording Your Ideas
What is Graphic Recording?
Graphic recording is also known as scribing. It's the live drawing of a meeting or event by me, the scribe. As people discuss and explain, I capture their ideas on large pieces of paper, (or one very large roll of paper!) bringing together the essential elements of the event. As you can imagine, this is a great way to disseminate the outcome of a meeting after the event has happened.
The sustainability department at Edinburgh University decorated their office with my illustrations after the event, as well as using digital copies of the images to disseminate information after the event.
Graphic Recording for academic research about Doctors and their medical career paths.
Who can use graphic recording?
Graphic recording works really well for everyone. Businesses, brands and organisations spend a lot of effort running meetings and events. Graphic recording can give an extra, exciting and innovative visual element, bringing the whole thing to life, and creating a lasting visual record. In Academic settings, live illustration / graphic recording can be especially useful for capturing large amounts of information visually.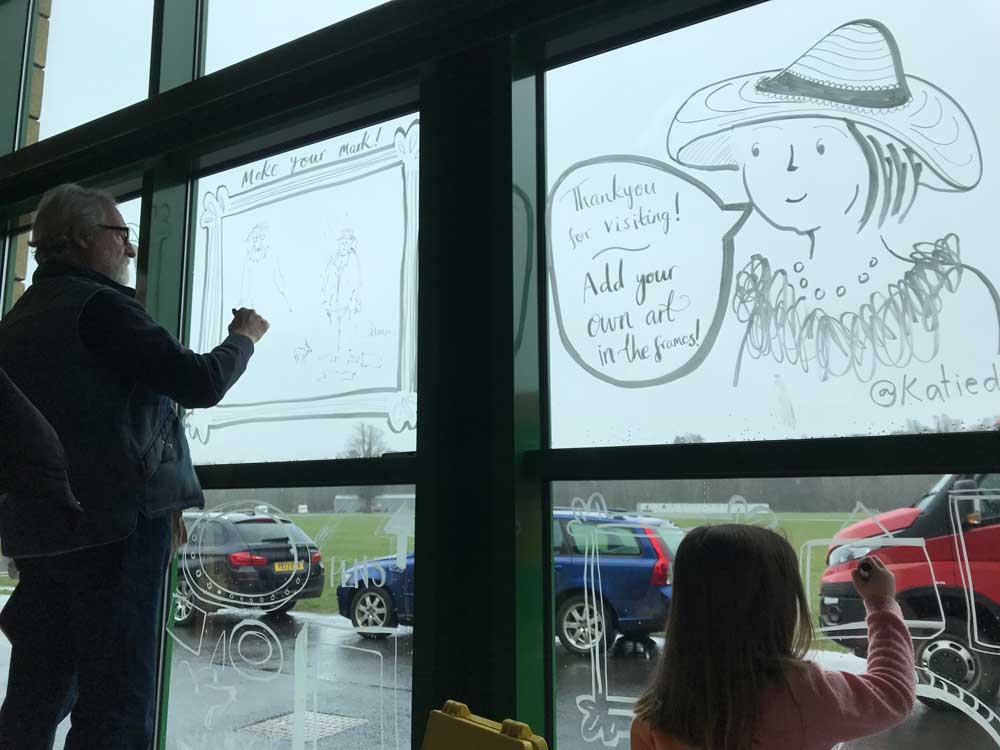 Live illustrations from Borders Art Fair. I worked in colours from their logo, and images were shared on social media.
Choosing a Scribe
I don't work with everyone! I'm picky when it comes to live illustration and I know you will be too. I specialise in using my illustrative powers to highlight sustainability, eco-friendliness, social and environmental issues.
Please get in touch to discuss your requirements and see whether we'd be a good fit.
Capturing ideas quickly, I pride myself on incorporating participants' contributions, and providing my clients with useful, visually-pleasing images (that work alongside branding) that can be used again and again after the event is over. Some of my previous clients have framed their live illustrations or used the images in leaflets and publicity. (With my permission and a licensing agreement.)
Communicate Effectively
Having a scribe or a live illustrator at your event can help ensure that workshop and meeting participants feel heard and valued. You can communicate your companies values, goals and future plans and record history.
Want to discuss and come up with some ideas?
See below for more examples of what I could do for you and your business.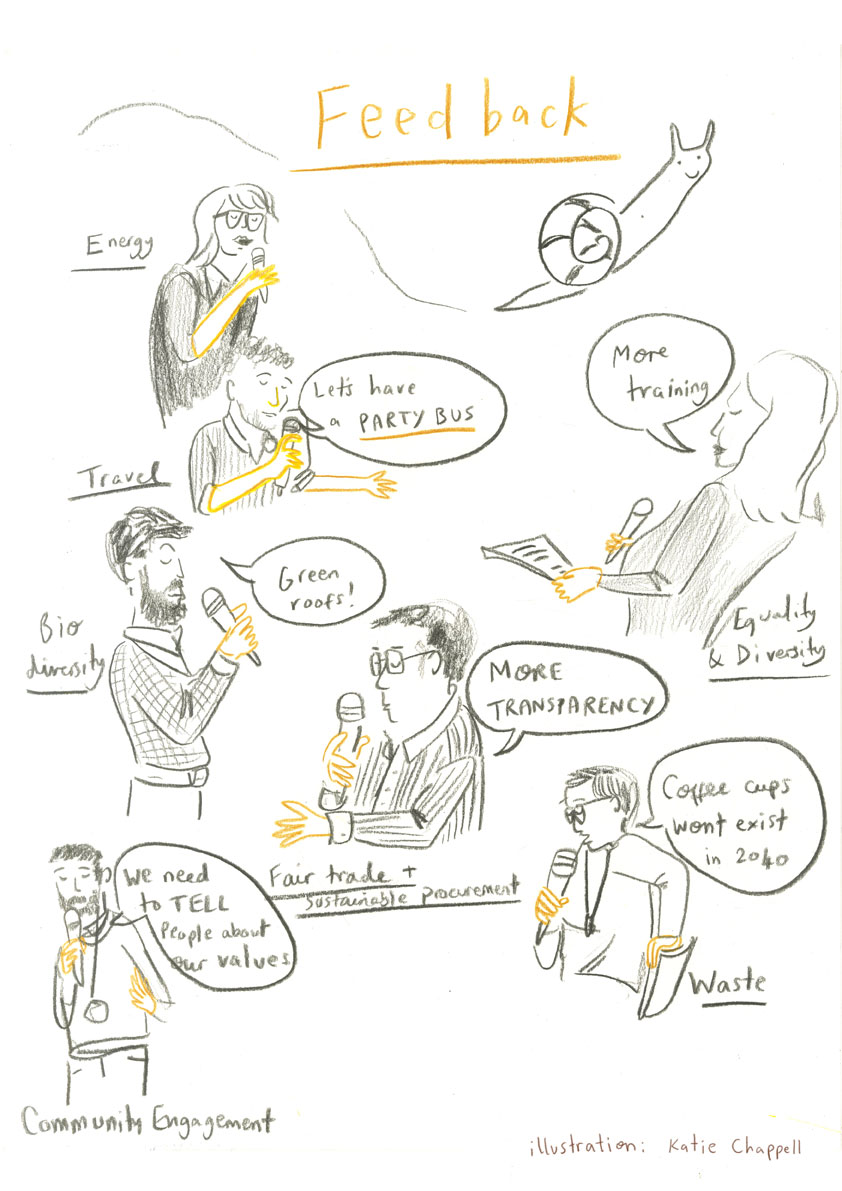 Location / travel
I am conveniently located on the East Coast railway line and can be in London in 3.5 hours, and international airports* Edinburgh or Newcastle in 45 minutes.
*Please note that in line with my sustainability policy, I travel by train for live illustration within the UK.
Going Digital - iPad Live event Illustration and graphic recording
For the BIG Creative Teachers' Event 2019 (images below), my iPad was hooked up to a large screen, and attendees were able to see drawings taking shape in real time.
iPad Live Event Illustration
I was able to drop in on different workshops, and know that everyone in the foyer was seeing the illustrations happen while I reported live. We used Apple TV technology to link the iPad and the TV screen, and a strong WiFi connection. While i'm not a technological superstar, I am able to give some guidance on setting up iPad connections for event illustration.
Why use Live Illustration or Graphic Recording?
People think visually! Audiences and workshop participants respond really well to a tangible, visualisation of the event they're attending. It's even more exciting to see your own ideas contribute in real-time to this. Seeing ideas appear on the page can encourage more people to participate in the discussions taking place.
Images are easily shared on social media, hashtags can be introduced, and people love to watch art happen before their eyes. It's experiential. I learned that word recently and I made it my goal to use it on this page. Ahhh. Experiential illustration. Who'd have thought it, eh?
To book some graphic recording for your workshop or meeting, do get in touch.